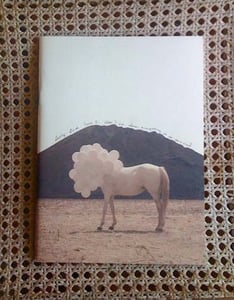 $

22.00
Issue 3: When I Am Alone, Everything Is So Surreal, revisits André Breton's almost-century-old Surrealist Manifesto* with a collection of artists' writings and artworks.
Contributors Include: Rita Ackermann, AA Bronson, Santiago Cucullu, David Kennedy-Cutler, Andrea Galvani, N.S. Harsha, Federico Herrero, James Hoff, Jungil Hong, Lee Mingwei, Justin Lowe, Jean-Lou Majerus, Cristina Rodriguez, Julian Seidl, Eyeam Soreel, and Su-mei Tse...
Description: 25x19 cm, 52 pages, limited edition of 500, signed and numbered, with individually handwritten tittle, cover by andrea galvani.