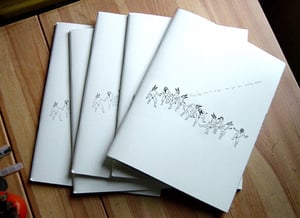 $

22.00
The first issue is divided into three sections based on the different mental states that make up the artists' day: dream, reality and daze.
Contributors ~ Jesse Alexander, Cory Arcangel, Aaron Bennett, Kelly Carmena, Lynne Chan, Julia Chiang, Brian Crumley, Flavia da Rin, Juan Donado, Sarah Dunbar, Vicson Guevara, Ronald Gerber, Max Gleason, Patrick Henry, Baptiste Ibar, Japanther, Aude Jomini, Danny Kohler, Justin Lowe, Lesley Ma, Liliane Phung, Bradley Pitts, Cristina Rodriguez, Julian Seidl, Sabrina Shaffer, Seth Wieder, and Jia Zhang.
Description ~ 25x19 cm, 46 pages, limited edition of 500, signed and numbered with individually handwritten tittle, cover by seth weider.